About The Forge
Partners Kasey & Shannon Collins and Sarah & Chris Brite created The Forge on 4th to bring a glamorous and intimate event space to Columbus. Wanting to bring life back to a historic downtown building, the Forge On 4th was created in 2022.
Our dream was to create a space where our guests feel at home while celebrating life events in style. We are passionate about making your event remarkable.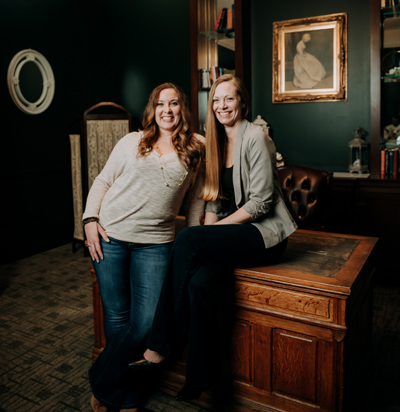 Building History
The Forge is full and rich with history. Over the years the building has had many successful uses.
1876 – Francis J. Crump has building built for the Republican newspaper. It adjoins an existing agricultural implement building on the east side.
1876 – The building was a Cigar Store
1882 – The Republican moves into their new building at Fifth and Washington. The Democrat newspaper takes up offices/printing inside the Fourth Street building
1886 – The building is occupied by the Democrat printing offices
1890 – The Crystal Steam Laundry occupies the building
1906 – A saloon occupies the west side of the building. The east side has a hall on the second floor and a grocery on the first
1947 – Through 1970 – the Red Mens Fraternal Lodge held meetings in the building
1936 – 1959 – The building was multiple pool halls including Pop's Pool Hall, Shultz Pool Hall and Anderson & Meyer Pool Hall
1970 – Becomes the Sportsman Inn
1980 – 1998 – Left Bank Restaurant served local residents
2000 – 2016 – Smith's Row ran as an upscale local restaurant. The restaurant was named so after all of the tinsmiths and forge shops that used to reside on the street.
2022 – The Forge is born!